August was a good month for PTC and, in some ways, we have moved forward. I realize that a similar statement has been made in the past, but baby steps are still steps, I suppose.
In August, three of our four Board members were able to attend the Global Leadership Summit in Liberty, Missouri. The Summit was fantastic with great insights gained on many aspects of leadership in general and becoming a better leader in some specific ways. Last year, the Board had approved making this an annual focus to allow for some intensive training. It was intensive (drinking water from a fire hydrant), but the training was phenomenal. The book we have chosen to read is The Last Arrow by Erwin McManus. We were inspired greatly by his sermon (it was far more more than a presentation), and have decided to dig deeper as a team.
During our breaks a couple of contacts were made as well. One was with a gentleman who pointed us towards PastorServe (www.pastorserve.org) to gain more insights on what we might consider doing with our ministry. A preliminary conversation has been beneficial, and we have agreed to continue to discuss possibilities.
Another conversation during the break has further developed the idea of expanding our ministry to India. Further conversations will need to be scheduled, but God has brought about discussions of India multiple times now, so we are eager to determine what our role might be in the future.
We also held our annual meeting this month. We have moved the meeting to coincide with the GLS, and it worked well. We met on the Thursday evening between the training days and hashed out a few items (including creating a more consistent presence on social media – check our FB page and Twitter update), voted on how to move forward with a certain aspect of training, and resolved an issue that arose a few months ago. Overall, it was a fantastic two days.
In late August, we were able to conduct our second training class in Maralal, Kenya. This class was really a completion of the first class in May where technical difficulties abbreviated that class. In this round, we completed Personal Spiritual Disciplines (by covering another four disciplines) and New Testament Survey 1 (with an extensive – 3 day – look at the apostles and the development of the early church in Acts. Again, we had some technical issues related to the internet on the Kenyan side, but the training was successful overall. Here is a couple of pictures from the recent class.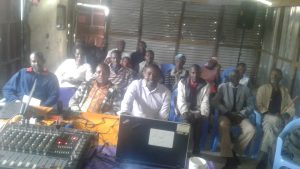 Finally, due to some assistance from Andy's church for a particular village in Kenya, a new connection was made in America with an organization (www.hamoreh.org) which is doing very similar training in the same general area of Kenya. Andy and Marcus (Hamoreh's Executive Director) had a great conversation about ministry philosophy, mutual friends in Kenya, and curriculum possibilities. Overall, the conversation was a great end to a great month.
In the coming months, PTC will being ministering in a second country. Honduras has been on the radar for about a year now and the first class will take place in November. A few logistics have yet to be settled, so please be in prayer for this new opportunity.
Current Prayer Requests:
Honduras Trip – see paragraph above
Finances – PTC is needing donations to pay for certain aspects of the trip to Honduras and the continuing need for translation and internet access for the ministry in Kenya.